Updated May 27th at 12:00 Noon
Dear Friends,
As we prepare to move into the Yellow Phase and having consulted diocesan guidelines, CDC interim guidelines for faith communities and parish staff, weekend Masses with a congregation will resume on June 6th and 7th. Daily Masses will resume on Tuesday, June 2nd at 8 am. These dates give us time to inform parishioners, comply with guidelines and troubleshoot issues associated with the many changes that come with a return to celebrating Mass publicly. Below is a list of changes applicable to St. Mary
'
s and the Fatima Mission. Please know that
Bishop Gainer has extended the Dispensation from the Sunday Obligation
to
those who are not able to attend Mass. The elderly
,
those with compromised immune systems
or anyone with concerns about exposure to Covid-19 in a group setting
should consider carefully the choice to attend Mass. Anyone who is sick or does not feel well should not attend Mass.
*
Until further notice, weekend masses will be celebrated at St. Mary
'
s according to the following schedule: Saturday at 5:30 pm, Sunday at 7:30 am and 10:30 am. This schedule is subject to change.
*
Weather permitting, confessions will be held outdoors in the parking lot on Saturdays from 4-5 pm or in another well-ventilated space.
*
Masses at the Fatima Chapel will be outdoors during the summer months and on a
"
to be announced
"
basis. Please check email, website and Facebook for updates.
*
Weekday Masses at St. Mary
'
s will be celebrated in the main church Tuesday through Friday at 8 am. The changes below will apply.
*
There will be no Tuesday morning confessions until further notice.
*
At St. Mary
'
s we will use only the front doors of the church to enter the church. This will make the church accessible to the disabled and facilitate sanitizing.
*
The wing doors of the church may be opened during Mass to facilitate better ventilation.
*
Face masks are to be worn by all the lay faithful with the exception of those who do not wear masks for medical reasons. The only time face masks are to be removed is when a lector proclaims the readings and for the reception of Holy Communion. A cantor who is separated by a good distance from the assembly my participate without a face mask.
*
Face masks are
not
to be worn by the clergy during the celebration of the Sacred Liturgy. However, the clergy will wear masks for the distribution of Holy Communion (see below).
*
Pews will be taped off to facilitate social distancing. Only those living in the same household should sit together. All others should exercise the 6-foot social distancing norm.
*
Hymnals will be removed.
*
Access to lighting votive candles is restricted to the pastoral staff.
*
There will be no offertory procession or sign of peace.
*
Collection baskets will be placed (not passed) for parishioners to drop off their contributions.
*
Altar servers may not serve at Mass during the Yellow Phase.
*
Extraordinary Ministers of Communion will not serve during the Yellow Phase except in necessary cases and with the permission of the Office of Divine Worship.
*
All gatherings before or after Mass are prohibited in the narthex, church proper and entrances/exits.
*
In order to provide for proper social distancing, fewer than 1/3 total occupancy may occupy the church at a given time. For St. Mary
'
s, that should be less than 200 and ideally between 100-150 parishioners (religious spaces are not held to the same standard as gatherings established for businesses).
*
After each Mass the church will be sanitized.  
*
Following option #2,
Mass followed by the distribution of Holy Communion, with special precautions (from
"
The Working Group on Infectious Disease Protocols for Sacraments and Pastoral Care
"
, April 28, 2020)
, Holy Communion will be distributed after the Mass has officially concluded. This will allow for the priest and deacon to wear a mask during distribution of Holy Communion and will allow for the communicant to immediately leave church or remain for silent prayer if desired. Reception of Communion in the hand is recommended during the Yellow Phase. Social distancing while standing in line is to be maintained. Please follow the ushers
'
directions for the flow of the Communion Procession.
*
Gloves may not be worn for the distribution or reception of Holy Communion.
*
Should other changes come about, announcements will be made before the start of each Mass.
*
For your situational awareness, according to our February 2020 statistics, the Sunday 10:30 am Mass averaged about 210, Sunday 7:30 am Mass averaged about 140 and the Saturday 5:30 pm Mass averaged about 170.
Thank you for your attention to these matters as we begin to celebrate Mass publicly again. The celebration of other sacraments will also come with changes and restrictions depending on the specific sacrament. We will keep you informed and do our best to keep you safe. I ask for your patience and understanding. Thank you to our parish staff and volunteers who have been working very hard during these unprecedented times.  
Our Parish Staff looks forward to welcoming you back!
Peace and all good,
Fr. Bob
Updated May 23rd at 8:00 PM
1.  This week,  Fr. Bob will be discussing our readiness to open St. Mary's and the Fatima Mission with the staff . Please check back on Facebook and the website for more information; it will be posted  as it becomes available.  Opening date to be determined.
3.  10th Annual CCW Weekend Retreat at Mount St. Mary's University in Emmitsburg, Maryland June 12 until noon Sunday, June 14, 2020. CANCELLED
4.  Masses are not scheduled to begin within the church  yet.
Diocese of Harrisburg is following the  governor's plan for reopening, not the plans of the local district attorneys, state reps ,  or city council  members. When the governor has announced that our region has entered the yellow phase,  then we will prepare to open.
5.  Process to Reopen in State of PA Click here
6.  Office Hours are now: Monday through Thursday 9:00 AM – 3:00 PM  And Friday 9:00 AM – 12:00
7.  
Dear Parishioners:
            Due to the impact the Covid19 "Coronavirus" has had on all of us, the bulletin is slimmed down and will contain only that which is most pertinent to parishioners. If you need specific information or assistance, please reach out to the parish office at 717- 272-5674, during the new office hours of Monday- Thursday from 9:00-noon.
8.  In Light of Covid-19—We are relying on our website: abvmlebpa.org.; Our Facebook page: Link  www.facebook.com/saintmarys98. Our Email: stm@abvmlebpa.org. The Diocese of Harrisburg is live streaming services—unites us to the universal church.
(www.youtube.com/user/hbgdiocese)    Click here
9. 
 Additional COVID-19 prevention measures and recommendations from the Diocese are also available on the website.
An Update From our Pastor: Father Bob
March 20 th at 10:30 AM
In an effort to comply with state and diocesan directives to mitigate the spread of Covid-19, the following change will happen on Monday, March 23rd:
Beginning on Monday
, March 23rd, St. Mary's Parish Office will be able to answer phone calls from 9 am to 12 noon only Monday through Thursday. .  You may leave messages after that period. All other inquiries, please use email
stm@abvmlebpa.org
.
To reiterate, the parish and mission facilities are closed until further notice.  Please do not come to St. Mary's or the Fatima Mission. Masses and the celebration of other sacraments are suspended until further notice. To request the Last Rites for someone in danger of death, please use the Emergency Number: 717-708-6698.
Please go to our parish website Parish website and our parish Facebook pageSt. Mary's Facebook Page for updates, changes and spiritual resources.
And remember, right now, what it means to be a good Catholic is to be a good citizen. May each of us do our civic duty and comply with the guidelines and directives issued by the CDC, the State of Pennsylvania, Lebanon County and the Diocese of Harrisburg. Doctors, nurses and first responders are not at home so they can help us. Let us stay at home to help them.
➿➿➿➿➿➿➿➿➿➿➿➿➿➿➿➿➿➿➿➿➿➿➿➿➿➿➿➿➿➿➿➿➿➿
11. Please remember to support our parish …
✔️Click here to donate ; safe and secure   During this difficult time, despite the fact that we cannot attend HolyMass, we need to continue to support our parish so as Father Bob said, "We can keep the lights on."
Thank you so much. May you experience God's peace through these trying times.
you can donate online by following this link or mail your envelope to Assumption BVM, 2 N. 8th Street, Lebanon, PA 17042
12.  Nursing Home Visits Suspended: posted March 18  . First Friday visits to the home bound and pastoral visits to nursing homes are suspended. Anointing and Viaticum (Last Rites) are still available to those in danger of death.
13. Penance Update:
Bishop Gainer's recently issued a number of directives to his priests and deacons. The directive regarding the Sacrament of Penance (during the Coronavirus Pandemic) states;
"The faithful should be urged to request the sacrament of penance only in danger of death."

Also, regularly scheduled confessions on Tuesdays at 7:15 am and Saturdays from 4-5 pm have been cancelled until further notice.
What can I do ? I need and want to confess my sins. Watch this 3 minute video for an answer!
Without the opportunity to go to confession Pope Francis has said, "You do what the Catechism says. It is very clear: if you do not find a priest to hear your confession, speak to God, he is your father, and tell him the truth…Promise him: 'Later I will confess, but forgive me now.' And immediately you will return to the grace of God,"
Our Cathechism: 'Where the individual faithful find themselves in the painful impossibility of receiving sacramental absolution, it should be remembered that perfect contrition, coming from the love of God, beloved above all things, expressed by a sincere request for forgiveness (that which the penitent is at present able to express) and accompanied by votum confessionis, that is, by the firm resolution to have recourse, as soon as possible, to sacramental confession, obtains forgiveness of sins, even mortal ones ." (cf. CCC, no. 1452).
Thus, perfect contrition requires • the love of God • the sincere desire for forgiveness • the ardent commitment to receive the sacrament of reconciliation when available.
Click here for more information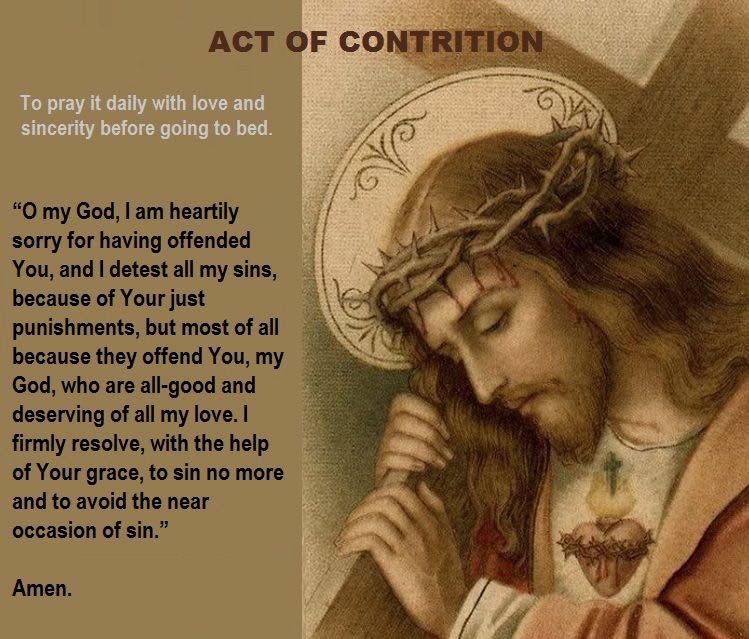 〰️〰️〰️〰️〰️〰️〰️〰️〰️〰️〰️〰️〰️〰️〰️〰️〰️〰️〰️〰️〰️〰️〰️〰️〰️〰️〰️〰️〰️〰️〰️〰️〰️〰️〰️〰️〰️
🔸🔸🔸🔸🔸🔸🔸🔸🔸🔸🔸🔸🔸🔸🔸🔸🔸🔸🔸🔸🔸🔸🔸🔸🔸🔸🔸🔸🔸🔸🔸🔸🔸🔸🔸🔸
Below is a suggested prayer of spiritual Communion.

Jesus, really present in the Most Holy Sacrament of the altar, since I cannot now receive thee under the sacramental veil, I beseech thee, with a heart full of love and longing, to come spiritually into my soul through the Immaculate Heart of thy most Holy Mother, and to abide with me, thou in me, and I in thee, in time and in eternity. Amen.