UPDATE ON CAPITAL CAMPAIGN as of JANUARY 12, 2020 –
      $703, 478.96.
Dear Friends,
Thank you for your generous response to our Capital Campaign! We not only reached but exceeded our goal in pledges. Because the pledges are being fulfilled, we have the financial resources to begin hiring personnel to draw up schematics. Engineers, electricians and contractors have already been on the premises to inspect our current infrastructure. When plans are drawn up, these plans will need to be approved by the Diocesan Building Commission and the College of Consultors. Thanks to your generosity, things are moving. If you have not yet contributed to the Campaign, you may do so at any time by going on our website. You may also contribute by placing donations in a Capital Campaign envelope or an envelope marked "Capital Campaign" and placing it in the collection basket. Thank you again for your prayers and generosity in helping to keep our parish facilities "warm, cool, dry and safe". Watch this space for more updates.
Sincerely in Christ,
Father Bob
Letter from our Pastor
To provide for our future, we must act now to save the building. We have established a goal of $600,000 to be raised over a period of five years in order to undertake this project. It is certainly a large amount of money, but we are in this together as a parish family. With God's  help, and yours, we can shore up a building that will not fall because "it has it  it's foundation on the rock."  Matthew 7:25.
Click below: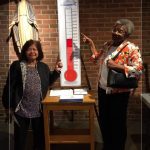 Click link above to read more…